________
____________
"Mrs. Bob Cratchit's
Wild Christmas Binge"
by Christopher Durang
directed by Tom Rushen
November 29 – December 15, 2013
Fridays and Saturdays @ 8:00 PM
Sundays @ 2:00 PM
Thursday, December 5 @ 8:00 PM
If you think you just don't want to sit through one more production of A Christmas Carol or The Nutcracker… mark your calendars for this "musical" comedic masterpiece – that has become a holiday season staple of theatres across the country.
In this sendup of A Christmas Carol, Gladys Cratchit is an angry, stressed-out woman who is sick of Tiny Tim, hates her twenty other children, and drowns her sorrow in drink. However… she meets up with the sassy Ghost of Christmas Past and Ebenezer Scrooge… and the plot morphs into parodies of Oliver Twist, The Gift of the Magi and It's a Wonderful Life. And to make matters worse, Scrooge and Mrs. Bob seem to be kindred souls falling in love. With a dénouement that is two parts Touched by an Angel and one part The Queen of Mean, Scrooge's tale of redemption and gentle grace is placed squarely on its head.
"A rollicking parody… Splendid." — Pittsburgh Post-Gazette
"Fiendishly funny…never disappoints. Wild it most certainly is, without apologies. Send-ups are often immersed in venom, but this one wears an ear-to-ear smile." — Observer-Reporters
Director  Tom Rushen is well known to WCT audiences for past productions includingSabrina and The Importance of Being Earnest, staged readings – and the friendly face you saw in the Box Office during the 2012 / 2013 season. He has directed several plays for Eastbound Theatre in Milford including The Comet of St. Loomis, Lobby Hero, Brooklyn Boy and The Complete History of America (abridged), and is the producer of annual summer one-act play festival jointly produced with Westport Community Theatre.  Tom has also directed a number of short plays in the area for SquareWrights (Skeleton Boy, Unintelligent Design, Intervention) and Temple Players (Soldiers of the Lord, An Answer to Their Prayers) as well as productions at other area theatres.
The talented cast includes:
Kaitlin Brozek
Sloane Burling
Kim Carlson
Allan Church
Christopher Cooney
Isabelle Katz
Bryna Kearney
Manny Lieberman
Joe Maker
Millie Matchick
Deborah Shields Runestad
Amy Starchan
Dainelle Testori-Gartner
Frederic Tisch
David Victor
For reservations, click on the "Reserve Tickets" tab above
http://westportcommunitytheatre.com/reserve-tickets/, 
or call the Box Office at 203-226-1983

A few photos from "Mrs. Bob Cratchit's Wild Christmas Binge"…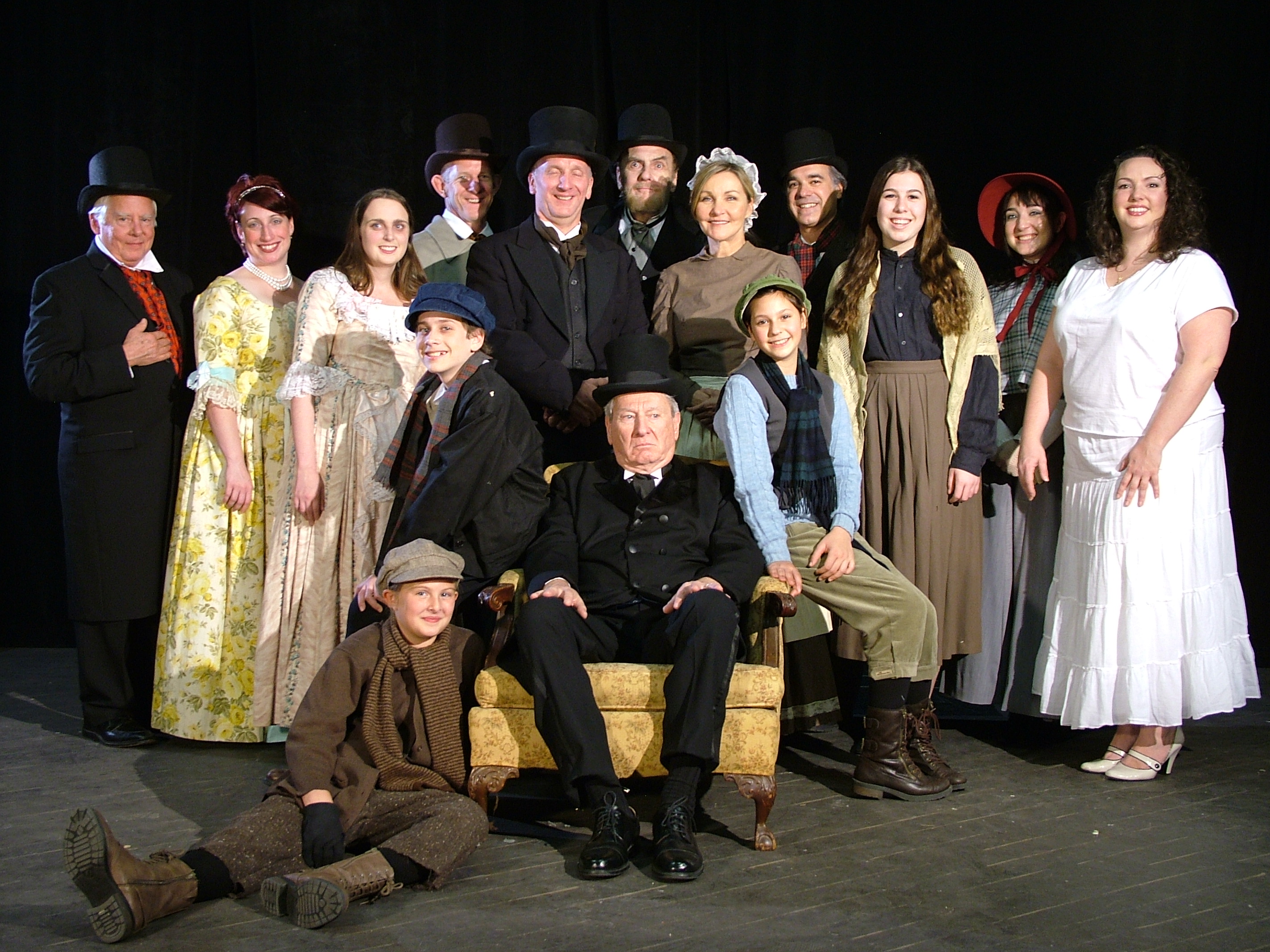 _______________________________________________________________________________________________________________
Westport Community Theatre is located at Westport Town Hall, 110 Myrtle Avenue in Westport. Season Subscriptions are on sale now – take a look at our 2013 / 2014 season at 
http://www.youtube.com/watch?v=a88dAANFLGs&feature=youtu.be
For directions to the theatre, go to the "Directions" tab above. Performances are Fridays and Saturdays at 8:00 PM, Sundays at 2:00 PM, and Thursday, September 26 at 8:00 PM.
Westport Community Theatre's mission is to produce memorable evenings of quality theatrical productions at affordable prices; for 56+ years, non-profit Westport Community Theatre has strived to be a "community within a community," defining all that the town of Westport, Connecticut is about.