Friday, August 1
Saturday, August 2
8:00 PM
"One For The Road"
One-Act Play Festival
FREE to everyone!

Summer 2014
"One For The Road"
Friday, August 1 at 8:00 PM
Saturday, August 2 at 8:00 PM
Westport Community Theatre
Westport Town Hall
110 Myrtle Avenue
Westport, CT 06880
Jointly produced by
Westport Community Theatre and
Milford's Eastbound Theatre
For the seventh straight year, Westport Community Theatre and Milford's Eastbound Theatre present an audience favorite – our popular summer festival of new one-act plays that are FREE:
Summer 2014: One For The Road
It's a great evening of new, contemporary theatre; running time is approximately 80 minutes, so it makes a perfect ending – or
beginning – of a summer evening. And the theatre's air-conditioning makes it an even more enticing evening entertainment late July weekend!
Join us for refreshments before or after!
The talented cast includes Joe Maker, Barry Hatrick, Deborah Burke, Jennifer Ju,
Bryn Berg, Larry Greeley, TJ Chila, Manny Lieberman and Bill Warncke
"Driving Green" by Martin Blank of Bethesda, Maryland
A politically opposite couple has their relationship tested by their new hybrid car.
Directed by Joel Fenster of Norwalk
"Initial Descent" by Allston James of New York, New York
Two strangers on a long flight struggle to find some common ground to pass the time.
Directed by Jack Rushen of Stratford
"The Last Time" by Michael Burgan of Santa Fe, New Mexico
The story of former spouses who meet for the last chance to end on a good note..
Directed by Tom Rushen of Stratford
"A Place That Looks Like Davenport" by Paul Lewis of Seattle, Washington
When a minor league baseball player faces the consequences of an unexpected turn of events…
Directed by Ann Baker of Milford
"Sundown" by Ray Arsenault of Haverhill, Massachusetts
What happens when a jogger crosses paths with a stranger on a different kind of road.
Directed by Tom Rushen of Stratford
"Welfare" by Anne Flanagan of Los Angeles, California
A downsized career counselor has an opportunity to help one last client before she leaves.
Directed by Joel Fenster of Norwalk
Two plays were singled out for "honorable mention" and will be performed as readings:
"Grow Up, Juliet" by Rex McGregor of Auckland, New Zealand
A short play that offers an alternate ending to Shakespeare's greatest tragedy.
"East of the Sun" by Darcy Parker Bruce of Norwich, Connecticut
A young woman is alone in the woods, spinning a dreamlike story of fear and tragedy that unfolds into suppressed events…
No reservations required, no admission – we look forward to seeing you at 8:00 PM this Friday or Saturday!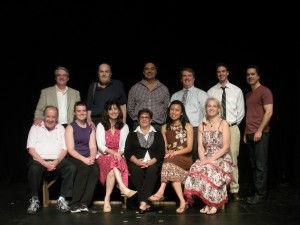 Previous WCT productions include…
_______________________________________________________________________________________________________________
Westport Community Theatre is located at Westport Town Hall, 110 Myrtle Avenue in Westport. For directions to the theatre, go to the "Directions" tab above. Performances are Fridays and Saturdays at 8:00 PM, Sundays at 2:00 PM, and the Thursday following opening weekend at 8:00 PM.
Westport Community Theatre's mission is to produce memorable evenings of quality theatrical productions at affordable prices; for 59+ years, non-profit Westport Community Theatre has strived to be a "community within a community," defining all that the town of Westport, Connecticut is about.