"Souvenir" opens Friday, April 11 and runs through Sunday, April 27, 2014
___
Souvenir
by Stephen Temperley
Directed by Ruth Anne Baumgartner
Starring Priscilla Squiers and Greg Chrzczon
April 11 – 27, 2014
Fridays and Saturdays at 8:00 PM, Sundays at 2:00 PM, Thursday April 17 at 8:00 PM
Up next at WCT, one of finest plays of the season – the wildly funny, surprisingly touching Souvenir. Written by Stephen Temperley, and directed to perfection by Ruth Anne Baumgartner, Souvenir is love note, a memory play that will have you laughing one moment, cringing the next – and wanting more when the evening ends. Priscilla Squiers brings Florence Foster Jenkins, an independently wealthy socialite who yearned a lifetime for an operatic career – despite being a "monomaniac," master of one note. And just one note… Her lifelong dream of a concert at Carnegie Hall was aided by her accompanist, Cosme McMoon (played to perfection by Greg Chrzczon), who tells the audience the tale of her eccentric – at best unusual – life in the first half of the twentieth century. Priscilla Squiers is nothing short of sublime in her portrayal, creating a multi-faceted character who was both cringe-worthy ridiculous and hauntingly sympathetic.
Souvenir opens Friday, April 11 at 8:00 PM with performances Saturday, April 12 at 8:00 PM and Sunday, April 13 at 2:00 PM,  A must-see.
Friday, Saturday and Sunday performances are $20 per person; Thursday, April 17 performance $18 per person.
Senior citizens, 65 years of age or older, receive a $2 discount on all tickets.
For reservations, click on the "Reserve Tickets" tab above or call the Box Office at 203-226-1983;
for directions, please click on the "Directions" tab above.
A few photos from Souvenir…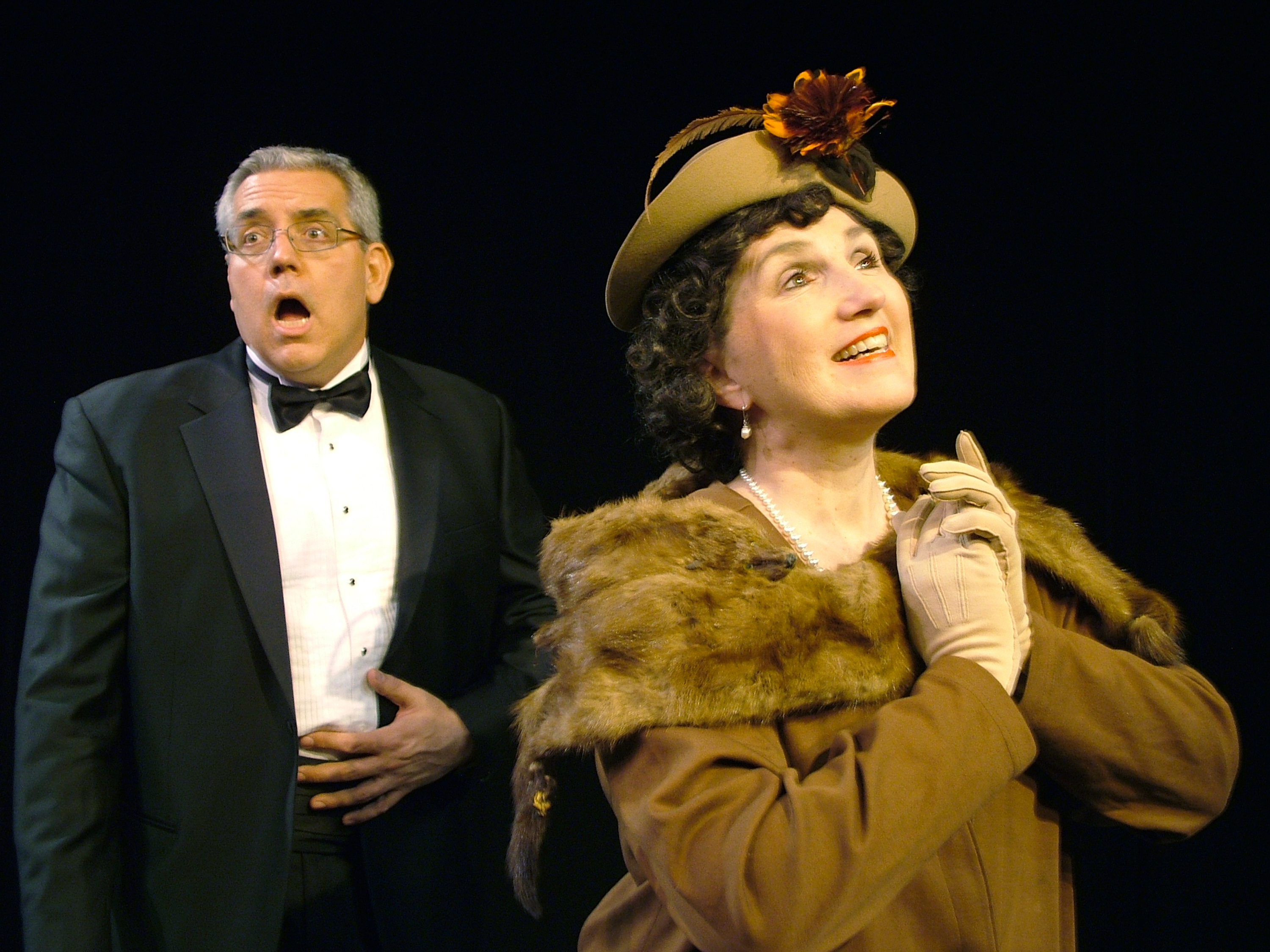 _______________________________________________________________________________________________________________
Westport Community Theatre is located at Westport Town Hall, 110 Myrtle Avenue in Westport. Take a look at our 2013 / 2014 season at 
http://www.youtube.com/watch?v=a88dAANFLGs&feature=youtu.be
For directions to the theatre, go to the "Directions" tab above. Performances are Fridays and Saturdays at 8:00 PM, Sundays at 2:00 PM, and the Thursday following opening weekend at 8:00 PM.
Westport Community Theatre's mission is to produce memorable evenings of quality theatrical productions at affordable prices; for 56+ years, non-profit Westport Community Theatre has strived to be a "community within a community," defining all that the town of Westport, Connecticut is about.